Not Just New Mexico's Senator

Senator Pete V. Domenici's Leadership on Four Issues Affecting Our Nation's Future
by Martin J. Janowski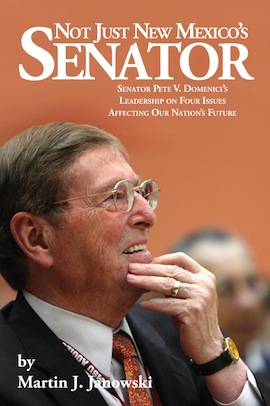 120 pages 12 illustrations

$17.95/PB (978-1-890689-39-1)
$28.95/HB (978-1-890689-73-5)


BOOK SIGNINGS

Book signings and events are listed as a master calendar. Check out the calendar by clicking the button below:


Many New Mexicans knew of Senator Pete V. Domenici during times when he worked on behalf of their specific interest or concern. That number grew substantially through his accomplishments over a 36-year Senate career, so much so that nearly everyone in the state proudly referred to him as "their Senator in Washington."

This book takes a more focused path, discussing four complex and critical issues of national and international importance where Senator Domenici took a leadership role developing solutions to long-standing problems. The author developed each chapter from information gathered through interviews with Senator Domenici and key staff members who worked for the Senator on the specific issue. The material presented allows the reader a firsthand look at the Senator's perseverance and willingness to work with both Republicans and Democrats to achieve the results he believed to be in America's best interest. Much of what is written here received little media attention at the time.

Each topic is self-contained, so pick the chapter that interests you the most. The book addresses only four subjects, a small sample of a long Senate career, but provides clear evidence that Senator Pete V. Domenici was "not just New Mexico's Senator."

About Senator Domenici
Senator Pete V. Domenici, born in Albuquerque, New Mexico on May 7, 1932, is one of five children and the only son of Italian immigrant parents. Growing up, he worked in his father's wholesale grocery business and pursued his dream of becoming a major league baseball pitcher. A graduate of St. Mary's High School in 1950, he earned an education degree from the University of New Mexico in 1954, distinguishing himself as a star pitcher for their baseball team. Following graduation, he pitched for the Albuquerque Dukes, a farm club for the old Brooklyn Dodgers, but soon left baseball to become a math teacher at Garfield Junior High School in Albuquerque.

In 1958, Domenici earned a law degree from the University of Denver and returned to Albuquerque to enter private practice. He married the former Nancy Burk that same year. The Domenicis have eight children: two sons and six daughters.
Domenici was elected to the Albuquerque City Commission in 1966 and voted in as city commission chairman (then equivalent to mayor) in 1967.

In 1972, Domenici won election to the United States Senate, becoming the first Republican Senator from New Mexico in 38 years. Historically, New Mexico's Democrats outnumber Republicans in voter registration, but with his reelection in 2002, Domenici became the longest serving Senator in New Mexico's history.

During his 36 years in the Senate, Domenici served as Chairman and Ranking Minority Member of the Senate Budget Committee and the Appropriations Subcommittee for Energy and Water Development. He also served as Chairman and Ranking Minority Member of the Senate Energy and Natural Resources Committee.

Upon his retirement from the Senate in 2008, Domenici was invited to serve as a Senior Fellow at the Bipartisan Policy Center, where he continues to work for bipartisan solutions on major issues facing our nation. His first symposium, "Unprecedented Federal Debt: Putting Our Fiscal House in Order," held in July 2009, is considered by Senator Domenici to be our nation's most critical problem to be solved.

Senator Domenici also contributes his time and efforts to the Institute for Public Policy that bears his name at New Mexico State University. Founded in 2008, it has held two annual public policy conferences that brought leading national and international figures to talk to hundreds of students, faculty and New Mexicans on issues critical to our nation' future.